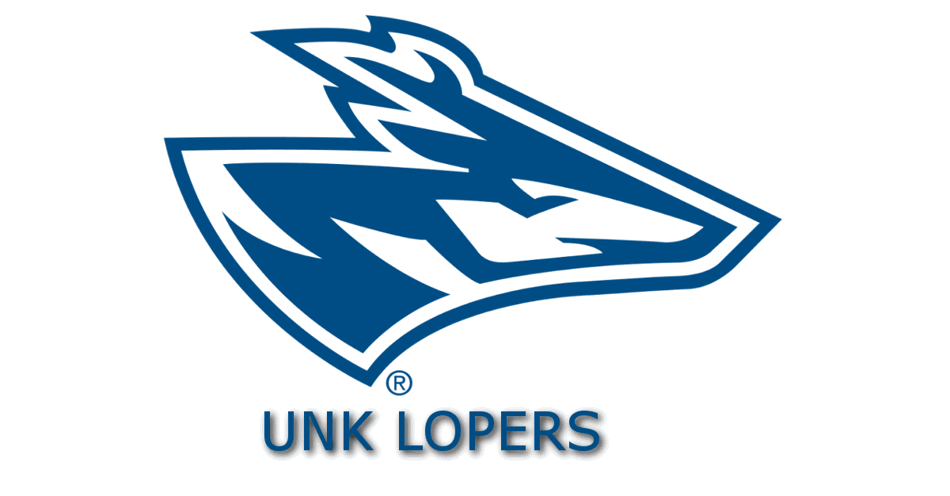 UNK MBB Luger Stars Again as Lopers Hold Off UCM
Jan 10, 2021 / UNK Athletics
Kearney, Neb. – Senior forward Austin Luger had another big performance and Nebraska-Kearney hit seven first half three pointers to hold off Central Missouri, 72-69, Saturday evening in Warrensburg.
UNK (3-6) comes out on top for the second time in three outings and wins in the Multipurpose Building for a second straight season. The Mules, meanwhile, fall to 2-7.
UCM tallied the game's first five points but the Lopers countered with a 10-0 spurt capped by a three from Luger (Alliance). After a career-high 26 points Thursday in a loss to Lincoln he went all 40 minutes today and had 21 points, 12 boards, five assists, two steals and drew four fouls.
"I didn't like the start of it. I think maybe we were a little tight because they knew how important the game was. We still believe we're a good team but we need to find a way to play 40 minutes instead of 30 or 35," UNK head coach Kevin Lofton said on the KRVN radio post-game show.
After that mini first half run the Lopers didn't trail the rest of the way as they went up 41-29 by intermission. The seven first half bombs came from Luger and New Zealand junior Matt Brien (three apiece) with Utah senior Jake Walker hitting the other. By rule UNK would have to play a close game as UCM attacked the basket early and often in the second half. They hit eight of their first 13 shots to get within 45-42 by the 14:33 mark. However, every time the Mules got close the Lopers had a response.
"In the first half we looked really good outside of the first two minutes. In the second half we were fine until that nine-minute mark, then it got to seven and then five and you have to buckle your seatbelt," Lofton said. "It was great to see Matt come out and hit those first half threes. That's how he is the entire practice."
A Luger dunk pushed the lead back to seven, 54-47, and then it was 61-53 after another Luger bucket four minutes later. Junior Gavin Pickney converted a layup to get the deficit to three but Luger responded with two free throws to make it 66-61 with 3:47 left. The freebies came after a UCM elbow that the officials reviewed; the ball remained with UNK and Bellevue lefty Cedric Johnson drove to the lane for two more.
Finally, UNK was up three in the waning moments with the shot clock winding down. A turnaround three by Walker rolled around the rim and off. Johnson was called for a foul with eight seconds left and the Mules hit two free throws to make it 70-69. Texas senior RJ Pair caught the subsequent inbounds pass, drew a foul and made two freebies to finish the scoring. UCM got off a three from the top of the key but it was well short before the horn sounded.
"It definitely was not a thing of beauty over the last couple of minutes. Hopefully we'll scratch a couple more out like this and they'll get confident. The last two half, three minutes you could just tell we got sped up a little bit," Lofton said. "But RJ stepped up to the line and stuck a couple of big free throws."
UNK made just one second half trey but shot 43 (25 of 58) overall. They also grabbed 10 offensive boards, leading to 14 points, and got 22 points off its bench. Besides Luger's heroics, Walker (13), Brien (12) and Lincoln senior Sam Morris (10) reached double digits. Six Lopers grabbed at least three rebounds as Kearney was plus seven on the glass.
Central Missouri had four players in double digits as well led by redshirt senior reserve Cameron Hunter with 19. The former North Dakota State Bison was 5 of 9 from the field and 7 of 8 at the line in 25 minutes of work.
Nationally-ranked Missouri Western State and Northwest Missouri State visit next weekend.